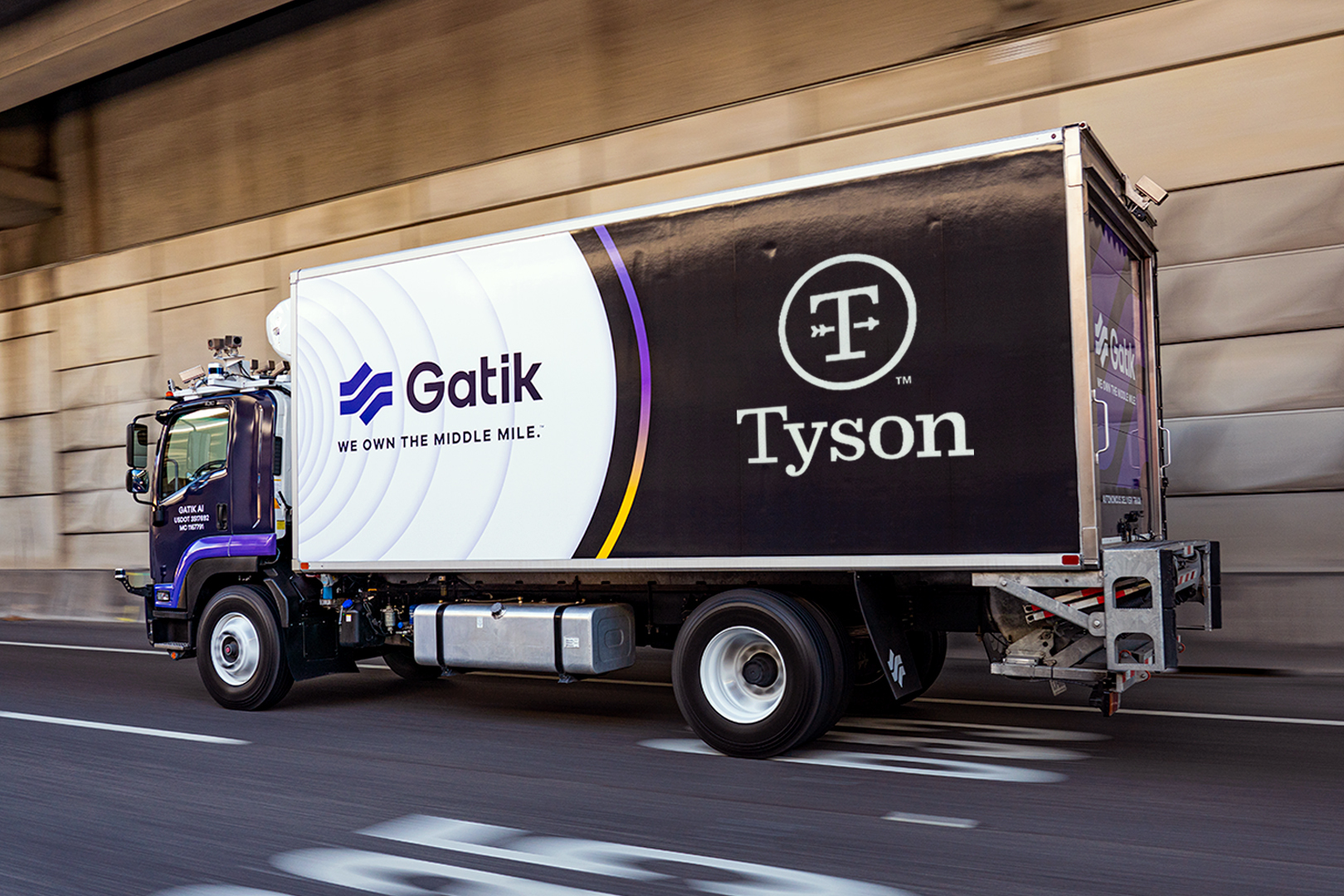 Collaboration with Gatik reinforces Tyson's commitment to building a more responsive and flexible logistics network to serve customers and consumers
Springdale, Ark. – Sept. 6, 2023 – Tyson Foods, Inc. (NYSE: TSN), one of the world's largest food companies, and Gatik AI, Inc. (Gatik), the leader in autonomous middle mile logistics, announced a multi-year collaboration to deploy autonomous refrigerated box trucks to bolster Tyson routes in Northwest Arkansas. Operating 18 hours a day, trucks will deliver Tyson®, Jimmy Dean® and BallPark® products, among others, to the company's distribution and storage facilities in the Rogers and Springdale, Arkansas areas.
The deployment will introduce Gatik trucks equipped with commercial-grade autonomous technology to the Tyson supply chain, operating on predetermined short-haul, repeated routes to support fast and efficient product flow from plant to storage facilities. In a nationwide truck driver shortage, these autonomous trucks are an innovative and safe way to add resources that will allow the company to elevate drivers to other transportation positions in the Tyson business, while ensuring continuous supply chain reliability.
The collaboration, which begins this week, will include multiple trucks with the potential for future expansion at other Tyson locations. The autonomous trucks are equipped with a 26-foot temperature-controlled box purpose-built to transport refrigerated and frozen goods quickly and safely and multiple sensor modalities that are custom-designed for fail-safe short-haul B2B operations. A safety driver will initially be present in the cab to monitor the autonomous system and take command of operating the truck if required.
"At Tyson Foods, we are innovating and using automation throughout our business, including in transportation," said Patrick Simmons, vice president of transportation for Tyson Foods. "This partnership allows us to strategically place our drivers where they are needed most while still reliably and safely transporting protein from the plant to distribution centers."
"We're excited to partner with Tyson Foods to reduce cost and complexity within their regional distribution architecture," said Gatik CEO and co-founder, Gautam Narang. "This is a significant moment for Gatik as we introduce Class 7 autonomous box trucks into our fleet. Our partnership with Tyson is poised to drive long-term innovation and supply chain resiliency while delivering tangible, near-term value."
The partnership is expected to provide Tyson Foods with increased asset utilization within its short-haul logistics network, assist with inventory objectives, and support a transition to a more responsive, high-frequency approach to goods movement. Additionally, autonomous trucks operate with increased efficiency and sustainability, leading to reduced emissions and enhanced fuel economy.
###
About Tyson Foods, Inc. 
Tyson Foods, Inc. (NYSE: TSN) is one of the world's largest food companies and a recognized leader in protein. Founded in 1935 by John W. Tyson and grown under four generations of family leadership, the Company has a broad portfolio of products and brands like Tyson®, Jimmy Dean®, Hillshire Farm®, Ball Park®, Wright®, Aidells®, ibp® and State Fair®. Tyson Foods innovates continually to make protein more sustainable and affordable to meet customers' needs worldwide and raise the world's expectations for how much good food can do. Headquartered in Springdale, Arkansas, the Company had approximately 142,000 team members on October 1, 2022. Through its Core Values, Tyson Foods strives to operate with integrity, create value for its shareholders, customers, communities and team members and serve as a steward of the animals, land and environment entrusted to it. Visit www.tysonfoods.com.
About Gatik
Gatik, the leader in autonomous middle mile logistics, delivers goods safely and efficiently using its fleet of light and medium duty trucks. The company focuses on short-haul, B2B logistics for Fortune 500 customers including Kroger, Loblaw, Pitney Bowes, Georgia-Pacific and KBX, and in 2021 became the first company worldwide to operate fully driverless commercial deliveries on the middle mile. Gatik's Class 3 – 7 autonomous box trucks are commercially deployed in multiple markets including Texas, Arkansas and Ontario, Canada.
Founded in 2017 by veterans of the autonomous technology industry, Gatik partners with industry leaders such as Isuzu, Ryder, Goodyear and Cummins. Gatik was recognized in 2022 as a TIME Best Invention, featured on Fast Company's 2023 list of World's Most Innovative Companies, and named as one of America's Best Startup Employers by Forbes in 2022 and 2023. The company is headquartered in Mountain View, California.