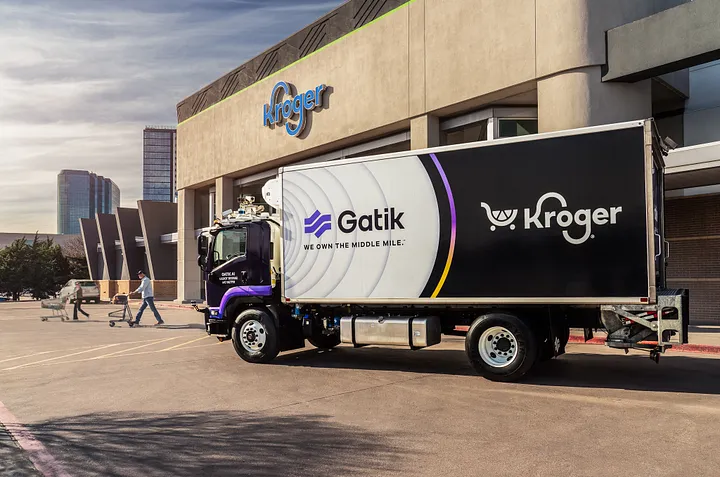 Today, we live in a world where consumerism is driven by speed, choice and price. The saying used to be "pick two" — you can have anything you want, and get it soon, but it will cost you; or you can get it cheap, but it might take a few days.
Today, consumers expect their favorite brands to deliver on all three. In today's must-have economy, the nation's largest grocers are moving an unprecedented amount of goods to a vast network of drop-off locations to ensure consumer expectations continue to be met. Not surprisingly, distribution networks are feeling the pressure.
Our customers have responded to intensifying consumer needs by creating an elastic, multi-channel experience: making their supply chains more flexible, and moving warehouses and fulfillment centers much closer to their consumers. Gone are the days of long, infrequent runs undertaken by class 8 big-rigs in regional distribution networks. The most effective supply chains are now being served by smaller trucks, making multiple deliveries per day to ensure faster store replenishment and satisfied customers.
Enter Gatik and Kroger.
This week, we announced a multi-year commercial collaboration to transport customer orders within Kroger's Dallas-Fort Worth distribution network.
Under the collaboration, Gatik's medium-duty autonomous box trucks will transport fresh, customer-favorite products from a Kroger Customer Fulfillment Center (CFC) in Dallas, Texas, to multiple retail locations within the Dallas-Fort Worth metroplex. Our industry-leading autonomous trucks each feature a cold chain-capable 20' foot box designed to transport ambient, refrigerated and frozen goods quickly, safely and efficiently. Our collaboration involves consistent, repeated delivery runs multiple times per day, seven days per week for Kroger, while unlocking the real advantages of autonomous delivery for Kroger's customers today: Increased speed and responsiveness when fulfilling e-commerce orders, reduced costs and dedicated capacity across the supply chain's middle mile.
A Multi-channel Experience and the Need for Speed
Think of all the ways you can buy goods today. You can buy online and have them shipped to your house. You can buy online and pick them up at the retailer from whom you purchased the product. You can buy online and pick up at a locker or at the curb. This multi-channel shopping experience has resulted in a significant flattening of the logistics hierarchy, and put consumers firmly in the driver's seat.
Foot traffic is no longer a gauge for estimating supply. Thanks to new eCommerce models, when products appear on the shelves one hundred customers can deplete a store's supply from the comfort of their homes in less time than it takes a single customer to drive to the store. A single video that goes viral can also spike demand for any given product, so brands must be able to rapidly produce and get goods where they're needed, fast. Speed in replenishment has become so critical to retaining a competitive edge that retailers have had to develop new processes to not only forecast, but meet fever-pitch levels of demand in real-time.
Gatik's autonomous middle mile solution is helping to support Kroger by meeting consumers' immediate needs whether they shop online or in-store, providing access to goods faster and more reliably than ever before. By increasing delivery frequency, consumers have a greater range of same-day pick-up times, as well as greater flexibility with cut-off times to place orders. Our service also reduces the lead time from order placed to pick up, further enhancing the customer experience.
We Own the Middle Mile™
Gatik operates in urban, semi-urban and highway environments, focusing exclusively on B2B short-haul logistics. Our fleet moves goods on the middle mile from distribution center to distribution center, distribution center to store, fulfillment center to store, or any combination thereof. We transport high-priority shipments across a network of known, repeatable routes to accelerate delivery frequency and enhance supply chain reliability — establishing a continuous, operational loop across our customers' eCommerce logistics networks. It's where the need is most pronounced, with an acute driver shortage and rising transportation costs contributing to unreliability on the supply chain and falling profits.
In the past few months, the autonomous vehicle industry has (rightly) been under the spotlight. Some companies have merged, some have pivoted and some haven't made it. And now, the industry and its ecosystem partners have realized what Gatik has known all along: focusing on a constrained solution, that's achievable in the near-term, is where commercialization at scale is happening first.
Gatik's unique approach is to solve for a single connection between a pick-up and drop-off location. This enables us to maximize safety and achieve driver-out operations more quickly than other applications of autonomous vehicle technology. Data collected from each delivery is used to improve network design and identify additional opportunities for cost savings and service improvements. This enables our customers to optimize their hub-and-spoke operations, enhance inventory pooling across multiple locations, reduce costs and meet the growing demand for a variety of delivery options to serve end consumers with speed and efficiency.
With our autonomous fleet that's purpose built for B2B short-haul logistics, we're able to take out a significant portion of the cost from traditional transportation networks and share those cost savings with our customer, which is important for the low-margin retail business, and even more critical as inflation continues to drive transportation costs up.
By reducing both cost and complexity on the middle mile, we're enabling Kroger and other Fortune 500 customers to enhance their logistics networks as eCommerce sales skyrocket and consumer demands increase. The result? Future-proofing our customers' supply chains at scale.
That's Gatik. We own the middle mile™.
Interested in shipping with us? Reach out to our Commercial Team at gatik.ai/ship-with-us to discuss your needs.
Interested in working with us? Check out our open positions at gatik.ai/careers.
Follow us on Twitter, LinkedIn and Medium.
About Gatik
Gatik, the leader in autonomous middle mile logistics, delivers goods safely and efficiently using its fleet of light and medium duty trucks. The company focuses on short-haul, B2B logistics for Fortune 500 customers including Kroger, Loblaw, Pitney Bowes, Georgia-Pacific and KBX, and in 2021 became the first company worldwide to operate fully driverless commercial deliveries on the middle mile. Gatik's Class 3 – 7 autonomous box trucks are commercially deployed in multiple markets including Texas, Arkansas and Ontario, Canada.
Founded in 2017 by veterans of the autonomous technology industry, Gatik partners with industry leaders such as Isuzu, Ryder, Goodyear and Cummins. Gatik was recognized in 2022 as a TIME Best Invention, featured on Fast Company's 2023 list of World's Most Innovative Companies, and named as one of America's Best Startup Employers by Forbes in 2022 and 2023. The company is headquartered in Mountain View, California.