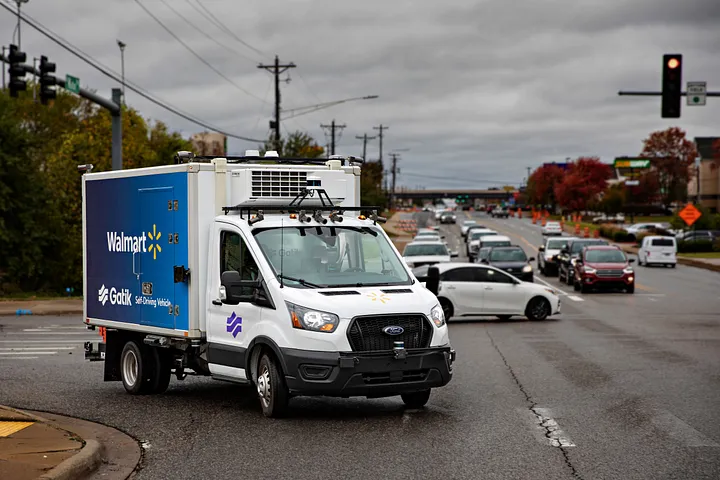 This month we announced a technology breakthrough that will change the autonomous trucking landscape and the way we view logistics forever. We are now operating fully driverless on our delivery route in Bentonville, Arkansas. It's the first time that an autonomous trucking company has removed the safety driver from a live, commercial delivery route anywhere in the world.
The industry has seen one-time demos in the past, but this is something different. Our deployment involves frequent, revenue-generating, daily runs that our trucks are completing safely in a range of conditions on public roads, demonstrating the commercial and technical advantages of fully driverless operations on the middle mile. It's the milestone we've been working tirelessly towards since Gatik was founded in 2017, and an exceptionally proud moment for everyone at the company.
Delivering Impact for our Customers
We've been operating commercially on our delivery route in Walmart's home state of Arkansas since 2019 — moving customer orders on a 7.1 mile journey between a dark store and a nearby Neighborhood Market in Bentonville. Walmart has long been at the forefront of supply chain innovation to better serve the needs of its customers, and identified early on that autonomous box trucks offer an efficient, safe and sustainable solution for transporting goods on fixed, repeatable routes between their fulfilment centers and live stores. Our partnership was founded on delivering on the promise of autonomy for Walmart's customers in the near-term — we take our commitments very seriously, and we're thrilled to enable Walmart's customers to reap the benefits.
Gatik focuses exclusively on structured autonomy, which is why our use case is a perfect fit for Walmart's hub-and-spoke supply chain operations. We've always said that we're focused on solving the middle mile, rather than solving general autonomy, and our fully driverless operations with Walmart validate this long-standing philosophy. Fully driverless operations are the holy grail of autonomy, and we've been able to achieve this with a use case that addresses some of the most critical pain points for the world's largest retailer. Gatik's fully driverless operations unlock the full advantages of autonomous delivery for Walmart's customers: increased speed and responsiveness when fulfilling e-commerce orders, increased asset utilization and lower supply chain costs.
Gatik's Unique Approach to Fail Safe Autonomous Operations
Safety is something we're obsessive about — our meticulous approach to fail safe operations is the reason we're able to boast a 100% safety record across all our operational sites. Our approach to rolling out fully driverless operations involves key phases that serve both as technology validation steps, and provide critical operational insights. Each of the stage transitions involve exhaustive simulation & closed-course system verification & validation before our autonomous trucks operate on public roads. Since the start of our commercial operations with Walmart, Gatik's fleet of autonomous box trucks have accumulated hundreds of thousands of miles, and completed thousands of trips on their operational routes across North America. This included multiple phases of technology advances in which the trucks were initially operated with a safety driver onboard, monitoring vehicle behaviours and taking over manually if needed.
Early this year we went through a technology development freeze, so that our trucks operating for Walmart could be used for the final stretch of test runs on public roads with a safety driver, and on our test tracks with no driver inside the vehicle. The technology development freeze was part of Gatik's larger phased approach plan towards unmanned roll-out, which also outlines a set of validation requirements from these final test runs for driver-out phase. Since then, these vehicles completed multiple runs round-the-clock over a stretch of 6 months in closed course & public road tests with no interventions from the safety driver, before we proceeded to remove the driver from these vehicles on public roads. For the initial few months of our fully driverless operations in Bentonville, our trucks will also include a "safety passenger" along with a chase vehicle, as part of Gatik's technical & operational validations.
Our approach towards rolling out the capabilities for fully driverless operations is incremental rather than binary, which enables us to continue adding value for our customers — we are focused on addressing customer pain-points route-by-route, unlocking new markets & Operational Design Domains (ODD) at each step. Tying this to our broader strategic roadmap which involves a route-by-route and site-by-site approach, Gatik's foundational ODD framework aims to provide a structure to define the capabilities of the autonomous stack at any given point and connect those capabilities to the routes and operating areas. This enables us to deploy, test & validate targeted releases incrementally, enabling expanding ODDs for fully driverless operations in a predictable manner. A complete cycle of Release-Deploy-Validate for a given candidate route unlocks potential fully driverless operations on a set of routes similar in definition to the candidate route.
This unique approach is enabling us to commercialize our fully driverless operations safely, and at scale.
Working Closely with State and Local Partners
From a regulatory perspective, our fully driverless operations are grounded in strong working relationships with state and local authorities. We've worked tirelessly with the Arkansas State Highway Commission and state regulators to share details on every aspect of our operations since we began serving our customer in 2019, and in December 2020, Gatik and Walmart received the first ever approval to operate fully driverless in the state. We were granted this approval as a result of our 100% safety record, the success of our operations and our approach to accountability and transparency with government partners. We're very grateful for the feedback and support we've received throughout this journey, and want to thank Governor Asa Hutchinson in particular for being an incredible champion of our technology, as well as local leadership including Bentonville Mayor Stephanie Orman, Rogers Mayor Greg Hines and local Emergency Services.
We'll be continuing to work closely with state and local partners to hold ongoing informational workshops on our groundbreaking operations. We sincerely value the thoughtful insights and ubiquitous support we've received and continue to receive — it's a privilege to work so closely with elected officials and key partners in Arkansas to bring safe, reliable autonomous technology to the state, and bear witness to it becoming part of daily life for residents of Bentonville.
This is Just the Beginning
We are all dependent on the supply chain for the food we eat, the clothes we wear, the medicines we need and the things we enjoy. At Gatik, we're thrilled to offer a solution that ensures we get access to these items safely, quickly and reliably. We recognize there is much more to be achieved as we scale our operations, but this milestone is validation of our technical and commercial philosophies, and brings the real value of autonomous delivery to our customers today.
Interested in working with us? Check out our open positions at gatik.ai/careers.
Follow us on Twitter, LinkedIn and Medium.
About Gatik
Gatik, the leader in autonomous middle mile logistics, delivers goods safely and efficiently using its fleet of light and medium duty trucks. The company focuses on short-haul, B2B logistics for Fortune 500 customers including Kroger, Loblaw, Pitney Bowes, Georgia-Pacific and KBX, and in 2021 became the first company worldwide to operate fully driverless commercial deliveries on the middle mile. Gatik's Class 3 – 7 autonomous box trucks are commercially deployed in multiple markets including Texas, Arkansas and Ontario, Canada.
Founded in 2017 by veterans of the autonomous technology industry, Gatik partners with industry leaders such as Isuzu, Ryder, Goodyear and Cummins. Gatik was recognized in 2022 as a TIME Best Invention, featured on Fast Company's 2023 list of World's Most Innovative Companies, and named as one of America's Best Startup Employers by Forbes in 2022 and 2023. The company is headquartered in Mountain View, California.