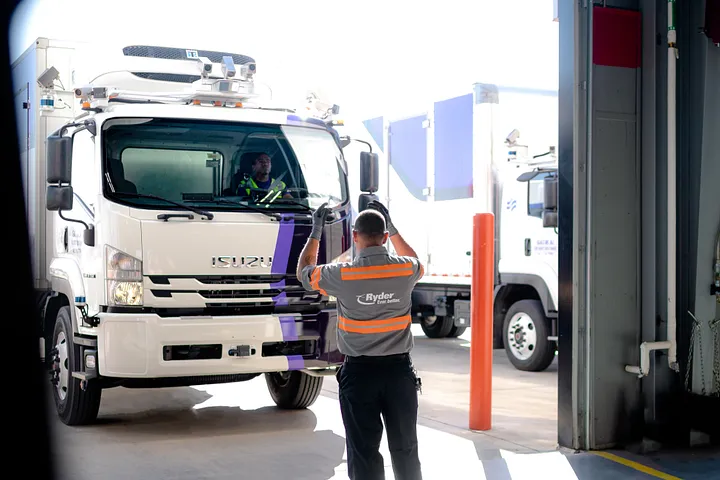 Since Gatik began commercial operations in 2019, we have been moving goods safely and efficiently for some of the largest retailers, including Walmart and Loblaw, across North America on the middle mile: from micro-fulfilment centers and dark stores to retail locations and other convenient pick-up points.
Our autonomous box trucks operate round the clock, 7 days a week. To keep our fleet running safely and efficiently we need the right partners — partners with a nationwide reach.
That's why we've teamed up with Ryder: the global leader in supply chain, dedicated transportation, and fleet management solutions.
Under the partnership, Gatik will lease from Ryder a fleet of medium-duty, multi-temperature box trucks. Gatik will integrate its commercial-grade autonomous driving technology into the leased fleet, enabling Gatik to provide its Autonomous Delivery as a Service (ADaaS) model to new and existing customers. In addition to providing the leased vehicles, Ryder's sophisticated national servicing infrastructure ensures we can serve our customers across the continent, while their team of world-class technicians services and maintains the trucks for maximum uptime and enhanced vehicle performance. This includes calibration of Gatik's autonomous vehicle sensors, and undertaking the necessary pre- and post-trip inspections.
It's a groundbreaking new model for the industry where Gatik owns customer relationships while remaining asset light: allowing us to scale safely, quickly and efficiently.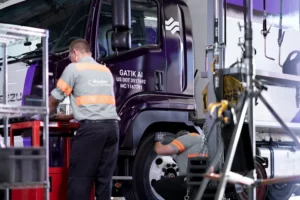 In August this year, we announced our latest funding totaling $85 million. This includes an investment from Ryder — their first in an autonomous trucking company. We see this as validation not only of our technology, but our approach to commercializing autonomous delivery at scale together. Acute driver shortages, rising transportation costs and severe inefficiencies in the supply chain are posing significant challenges to North America's major retailers. Our partnership with Ryder will help us to address these pain points and continue to provide the standard our customers expect from us — at scale.
About Gatik
Gatik, the leader in autonomous middle mile logistics, delivers goods safely and efficiently using its fleet of light and medium duty trucks. The company focuses on short-haul, B2B logistics for Fortune 500 customers including Kroger, Loblaw, Pitney Bowes, Georgia-Pacific and KBX, and in 2021 became the first company worldwide to operate fully driverless commercial deliveries on the middle mile. Gatik's Class 3 – 7 autonomous box trucks are commercially deployed in multiple markets including Texas, Arkansas and Ontario, Canada.
Founded in 2017 by veterans of the autonomous technology industry, Gatik partners with industry leaders such as Isuzu, Ryder, Goodyear and Cummins. Gatik was recognized in 2022 as a TIME Best Invention, featured on Fast Company's 2023 list of World's Most Innovative Companies, and named as one of America's Best Startup Employers by Forbes in 2022 and 2023. The company is headquartered in Mountain View, California.